It's been more than a year since I last posted about M1 Finance. Just wanted to give an update on my investing journey on what I've learned and adapted along the way.
Investing Strategy Changes
The 2020 year has been a pandemic year where we had a bit of a recession in March/April. Dividends of companies got suspended as well as lost value in favor of many growth and stay-at-home stocks.
In response, I droppped my dividend focused portfolio in favor of just keeping an ETFs only portfolio. I didn't want to have 50+ stocks in an account where I was just incrementally purchased fractional shares every week. I want my numbers to go up, but I'd rather keep it more simple with fewer holdings that I have more conviction in.
I changed my Core 4 ETFs in favor of some more growth. My changes:
Sold out of International (VXUS), Bonds (BND), and REITS(VNQ) ETFs completely
Added Ark Invest's ARKK and ARKF
Increased VTI from 48% to 65%
| ETF | Symbol | Percentage |
| --- | --- | --- |
| Vanguard Total Stock Market | VTI | 65% |
| Ark Innovation ETF | ARKK | 20% |
| Ark Fintech Innovation ETF | ARKF | 15% |
My performance of value over time has been very satifactory. I pretty much kept to a weekly deposit schedule (Wednesdays), with occasional boost in an amount when the market dipped significantly.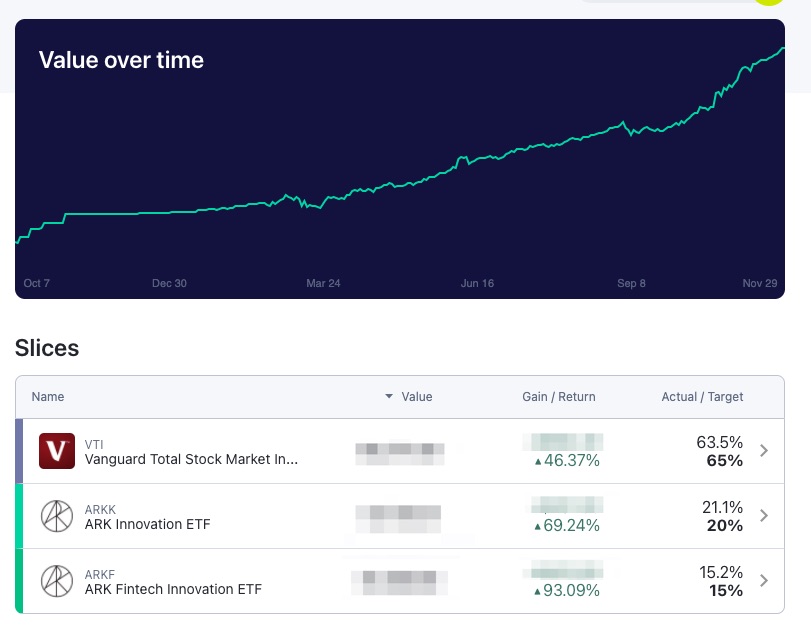 Ark Invest
I love the work of Ark Invest. Besides an a simple and cheap S&P500 index fund ETF, I recommend the ARK Innovation ETF (ARKK). It's their premiere ETF they offer that contains the best of the best innovative companies.
Ark Invest's CEO/CIO, Cathie Wood and her analysts do an amazing job finding innovating companies for their portfolios.
They have an expense ratio of 0.75% on all their ETFs. Not expensive, but also not cheap either! But I think it's worth it for them to do the work/research that I cannot do. The results speaks for itself.
Besides ARKK, I like ARKF and ARKG. I'm very bullish on Fintech and Genomic technology.
M1 Finance as a Brokerage
M1 succeeds at making some difficult things easy, but struggles with the easy things. Fractional shares, auto-invest, dollar cost averaging, and portfolio allocation (pies) are all amazing and well done. But their customer support is a weak point as a brokerage. This seems to be a problem at a lot of the smaller start-up brokerages like Robinhood. They are great at getting young people to be clients on a great easy to use mobile platform, but they don't have customer service! You will not find customer service a problem at more traditional brokerages like Fidelity or Charles Schwab.
When I was trying to close one of my accounts with M1, I contacted support via email and wasn't able to get the request completed for over a month. I know they use Zen Desk for their customer support. I had to follow up several times before someone took action!
Final Thoughts
I will continue to use M1 Finance as a brokerage. As I am bullish on my investments, I also believe M1 Finance will continue to grow in the coming years.
Links
M1 Finance referral - Sign up for M1 Finance with this link (via desktop browser).
ETFs pie - My main M1 Finance portfolio based on ETFs.
See also