Not long ago I posted what's in my camera bag. I thought I would follow up on what I carry in my other bag– especially when I travel. Here's what I typically have in my messenger bag.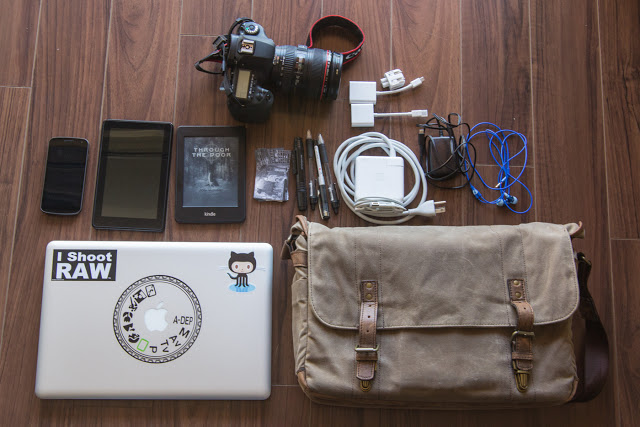 Going from the top, left to right:
Apple adapters
Samsung Galaxy Nexus phone
Kindle Fire (version 1)
Business cards
Lens cleaner pen
Pens
Apple AC charger/adapter
Micro USB charger
15" Macbook Pro (mid-2010)
You're probably wondering why I have so many mobile devices/readers. The Galaxy Nexus is my phone of course. I always have this with me.
The Kindle Fire I have I use mostly for playing a game or reading my Twitter feed. It also runs a custom ROM, Jandycane. I blogged on how you can root the Kindle Fire and put a custom Android ROM on there. a while back.
The Kindle Paperwhite I use for actually reading ebooks. It's actually really nice and clear– very easy on the eyes for reading anywhere. I while back I tweeted about winning the device at a Amazon Cloud Services meetup in Los Angeles.
Besides all the gadgets, I highly recommend the messenger bag from Ono. They're well made, stylish, and just holds everything you see here.
See also