In Feedly, there's a Flickr group that I subscribe to: What's in your camera bag? I like to consider it photography gear porn.
So I thought I would share what I typically carry with me when I'm out and about. I consider this a light package. When I'm actually at an event I know I will take tons of pictures, there will be a bit more in my bag. But overall, this is good enough for most situations.
Here's what is typically in my camera bag, unless otherwise noted: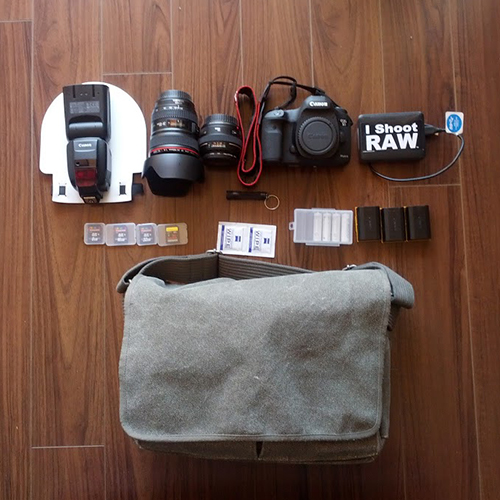 I have (going from left to right, starting at the top left):
A Better Bounce Card (large)
Western Digital 2TB external USB hard drive (only if I'm bringing my Macbook Pro)
Extra SD memory cards
Flashlight keychain
Lens wipes (I use Zeiss Pre-Moistened Lens Cloths Wipes)
Extra AA batteries (rechargeable, for flash)
Extra LP-E6 batteries (for DSLR)
ThinkTank Retrospective 30 camera bag
In the future, I will definitely do a post of what's in my camera bag when I'm doing a full day event. You may be surprised as to how much this bag can fit.
See also