This looks like a good year for not just comic book fans, but fans of books and other franchises because there are so many sequels coming out. This is why I dropped doing comic book only movies for my posts and opened it up to all movies.
Here are my top 8 movies that I think will be hits:
Avengers: Infinity War
Black Panther
Ready Player One
Incredibles 2
Ant-Man and The Wasp
Deadpool 2
Alita: Battle Angel
Venom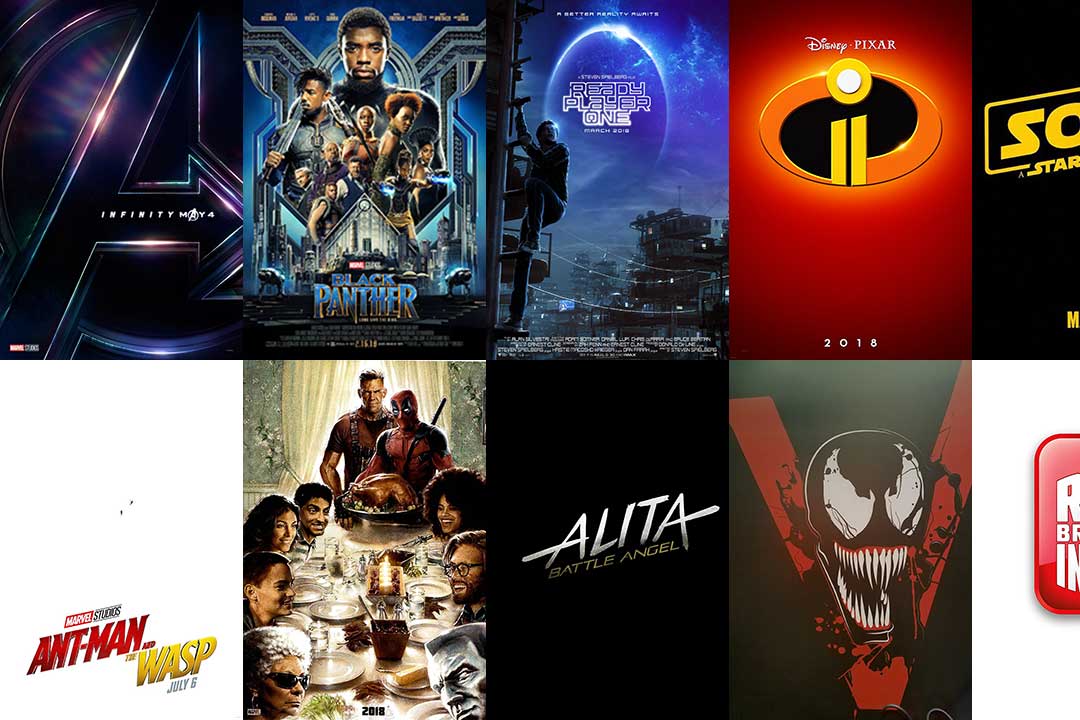 Quick Thoughts
Black Panther - February 16, 2018. The trailers for this movie looks amazing. The MCU gets a little bit bigger with this newest addition.
Ready Player One - March 29, 2018. I read the book a while ago. The auther, Ernest Cline, really likes the 1980s. And with Steven Spielberg behind the movie, the movie can't get much bigger. The movie may potentially be better than the book!
Avengers: Infinity War - May 4, 2018 April 27, 2018. The culmination of all things, of 10 years of Marvel Cinematic Universe. The world will finally see how much of a badass Thanos is in the Marvel universe! This is easily the movie I look forward to watching the most. The Russo brothers have done an amazing job with Captain America movies, I expect even better with this movie.
Deadpool 2 - May 18, 2018 (originally June 1, 2018). I'm a little indifferent about this movie. The first DP movie was fantastic, but we'll see if they get Cable correct or not.
Solo: A Star Wars Story - May 25, 2018. Don't know much about this movie as no trailers have been released yet. I also don't care. I really liked The Last Jedi and would rather see the Star Wars movie franchise move forward with new characters than tell old stories.
The Incredibles 2 - June 15, 2018. Pixar rarely disappoints.
Jurrassic World: Fallen Kingdom - June 22, 2018. Nothing will ever beat the first JP movie. I just like seeing dinosaurs on the big screen.
Ant-Man and the Wasp - July 6, 2018. I'm not a fan of Ant-Man or the Wasp really, but this movie is a big action/comedy piece that fits well in the MCU. It's a movie that doesn't take itself too seriously and just go to have fun watching.
The Predator - August 3, 2018. I will watch anything with Alien or Predator in them. I love the sci-fi/action/horror genre they sit in.
Venom - October 5, 2018. Also don't know much about this movie. Fox really screwed up Venom in Spider-Man 3. But it stars Tom Hardy who makes good movies. We shall see.
X-Men: Dark Phoenix - November 2, 2018. February 13, 2019. Again, I really dislike what Fox does to the Marvel characters in their movies. They have no plan or vision– their movies are generally trash. Like Venom, they are trying for the second time with Phoenix.
Fantastic Beast: The Crimes of Grindelwald - November 16, 2018. I have to watch it just because it's part of the Potter-verse.
Ralph Breaks the Internet: Wreck-it Ralph 2 - November 21, 2018. I really enjoyed the first Wreck-it Ralph movie. But non-Pixar animated sequels tend to be so-so movies that doesn't have the charm of the first.
Spider-Man: Into the Spider-Verse - December 14, 2018. Doesn't seem like this animated movie is part of the MCU in any way. Looks good, but Marvel has traditionally released sub-par animated movies compared to DC.
Aquaman - December 21, 2018. I've given up on the DCEU. But I'll watch the movie anyway.
Alita: Battle Angel - July 20, 2018 December 27, 2018. I read this manga as a teenager way back. I don't remember much, but I welcome more manga/anime based stories into Hollywood.
See also