For the past seven months I've jumped back into reading comics and graphic novels. I used to read them a lot when I was a teenager, but just lost interest by the mid/late 1990s. I find myself struggling to enjoy reading monthly issues and going to the comic book shop every week– or even getting them online via Comixology.
The problem I have is that I don't like reading them month to month– it's too little to read bit by bit. I prefer reading a story arc in a sitting or two. My taste is turning more towards graphic novels and/or completed series– just like I did when I was a teenager.
Don't worry, this review is spoiler-free.
So I recently finished reading Brian K. Vaughan's and Pia Guerra's, Y: The Last Man graphic novel series. I really enjoyed the books. The story is pretty solid and artwork pretty consistent.
This is how I would sum it up:
The story is about the world where one day, all the men and animals with a Y chromosome drop dead, except for one guy, Yorick Brown. This is his journey through a world with only women in charge.
It's got a bit of romance, science fiction, adventure, politics, action, and all around good story-telling. Each volume has 100+ pages, and I generally read about two volumes at a time. This book does involve adult content, so I wouldn't recommend it for anyone under the age of seventeen. By movie standards, it's R-rated.
That said, there are certain parts– or rather characters hard to believe in. Just some. It nags at my brain a bit, but I generally suspend disbelief and let it go. A few chapters does jump around a bit to the past a bit, so readers should keep in mind the numerous characters.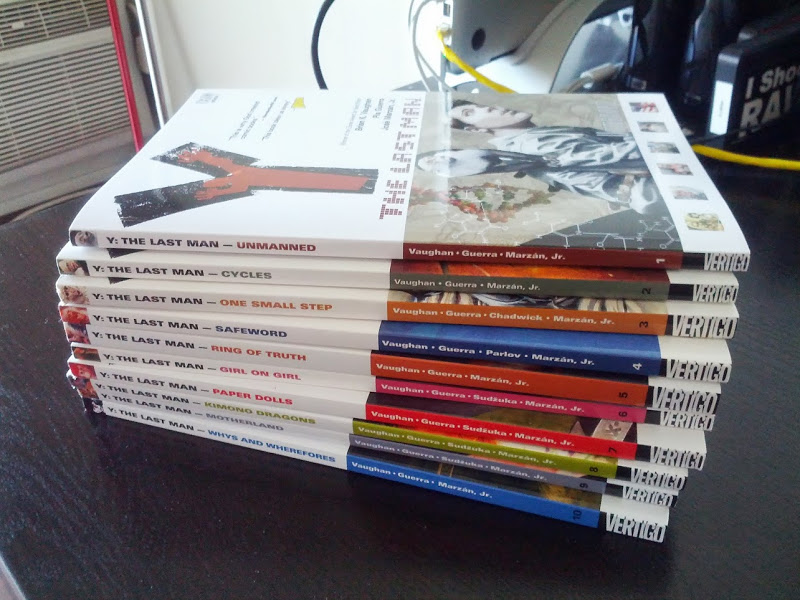 Here's are links to the full set of books (paperbacks):
They are available in hardcovers too, but I just prefer softcover format because it's lighter to carry around and read, especially in bed.
I can see this graphic novel being adapted into a TV show. Maybe HBO or Starz can pick it up? I can see this kind of story compete against True Blood or even The Walking Dead. The drama is that good.
If you enjoy Robert Kirkman's The Walking Dead comic series (currently ongoing) and other post-apocalyptic stories, you should give Y: The Last Man a try.
See also